How in the world did you come up with that?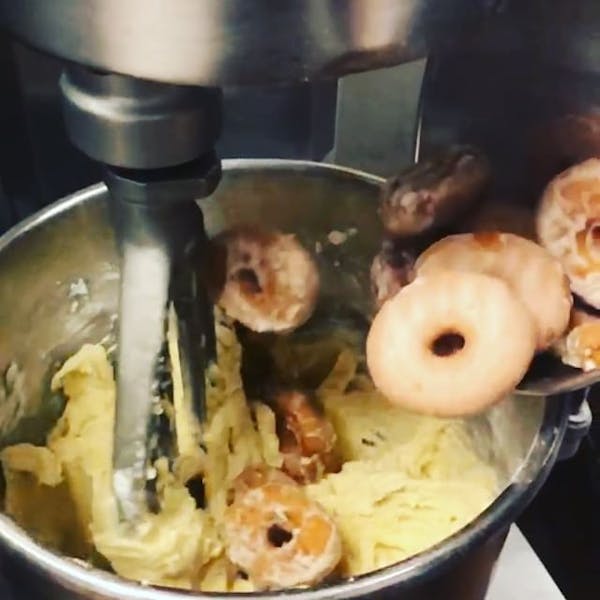 Pickles, crickets, whiskey, donuts...it's all fair game. Sometimes cookie ideas come to the shop inspired by other people. Sometimes the ideas come as you are laying in bed wondering, "what if I just put entire donuts in the dough?" One thing you need to prepare for is the possibility of failure. You must be OK with the idea that the entire batch can't be salvaged and it's a sunk cost you won't be able to recover. Are there bad cookie ideas? Absolutely! Early on in my baking life, I was challenged to put ketchup in a cookie. I proceeded to not only put ketchup in the dough, I also put a can of shoestring potatoes....a la "Ketchup & French Fry Cookie" - I could very well be the most disgusting thing that came out of my kitchen. But...now I know that certain condiments just don't belong in baked goods.
Crickets. That was our latest foray into the weird. A former Target colleague of mine started www.craftcrickets.com in Eugene, OR. He reached out and asked of I would be interested in experimenting with his product. I am always willing to try something once. Crickets are very high in protein with crunchy texture and nutty flavor. We created the Chocolate Chirp cookie! Novelty? Yes. Best seller? Nope. But now we know.
Pickles. We were invited to participate in the Minnesota Bloody Mary Festival this spring. As I was thinking of our cookie line up, I realized we didn't have anything that paired well with Bloodys. BUT as I visualized the drink...all I could picture was all pickles prominently speared across them. There was the "ah ha!" moment. A few iterations and we were able to come up with a cookie that not only was novel...but also pretty tasty. We thought this would be a "one and done" cookie. After the event the cafe received phone calls, I got messages..."when are the pickle cookies coming back?" They are back.
What's the next big cookie idea? Stay tuned!