It's All About The Base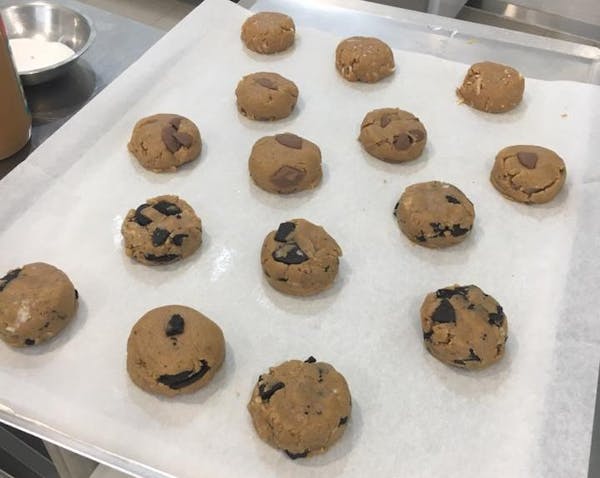 Some people think it's crazy that I share my recipes. Truth is so many people have different techniques, equipment, materials so I don't mind sharing. Besides, since we refuse to make small cookies, this is your chance to have them...you just have to make them yourself.
Here's our base:
4.5 cups all purpose flour - Use the scoop and sweep method OR weigh out the flour...4.5 cups is 36 ounces
1 tsp baking soda
**Whisk** I say whisk because it's easier than sifting. Besides, not everyone owns a sifter anymore.
3 sticks MELTED butter - melt it in the microwave and let cool while you put the other stuff together
2 cups DARK BROWN SUGAR - I prefer dark brown sugar because it brings a richer flavor to the party
1 cup granulated white sugar
**Put into the mixer (I always recommend using a mixer unless you want to develop really strong forearms) and slowly add in the melted butter**
3 eggs
**Some recipes say to beat the eggs in a separate bowl but why dirty another dish? Just add them one at a time into the butter/sugar mixture**
Add the whisked dry ingredients into the wet ingredients. At this point you have just made the ideal base for cookies. This is when you can let your creativity fly!
Add:
2 Cups Chocolate Chips - for the traditional chocolate chip cookie
OR
1 Cup Chocolate Chips / 1 Cup Caramel Bits - Then sprinkle the tops with Falk Salt to make our Salted Caramel Chocolate Chip Cookie!
OR
2 Cups Butterscotch Chips
OR
Whatever sounds good to you. Just note that if you are adding oatmeal you will need to reduce the amount of flour that goes into the base, otherwise your dough will get pretty heavy.
---
We also recommend using a cookie scoop when portioning out the cookies. Scoop it and flatten the tops a little so that it can bake evenly.
Bake the cookies in a PREHEATED oven at 350 degrees. Here's where it gets squishy. All ovens are different. We say 12 minutes but depending on your oven and whether you like to bake with convection or not, the time will be different. This is where the experimenting comes in.
Give the recipe a shot and let us know how it goes!!
Bake On Friends!